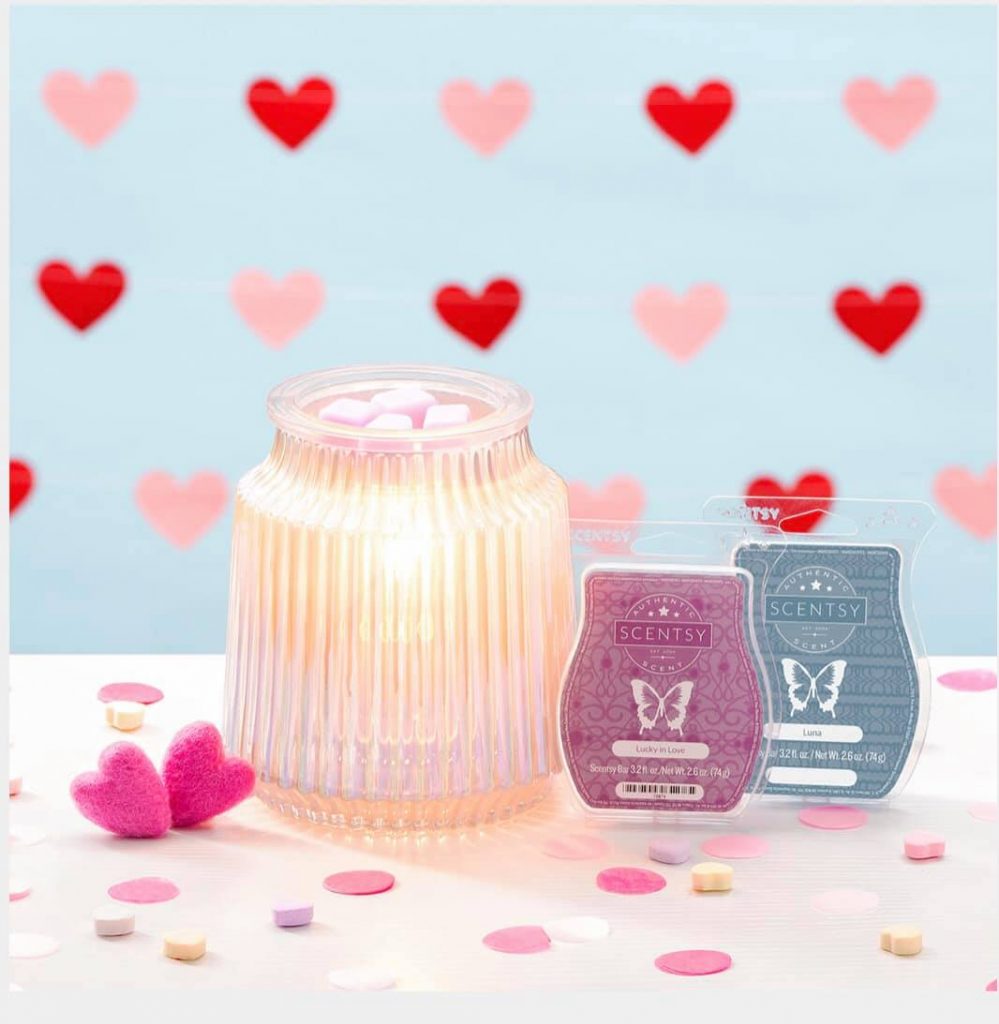 It is fast approaching…the season of love.  Some love this holiday while others despise it, but no matter your take, something we can all agree on is we love great fragrances.  So whether you love the fragrance of a dozen red roses, your favorite comfort food cooking all day, or cookies baking in the oven, Valentine's Day and fragrance go hand in hand.
The right fragrance can generate memories of loves past, invoke the laws of attraction, or inspire a new and budding romance.  Fragrances like Lucky in Love, Love and Happiness or my personal favorite, Lavender Cotton can move your heart this season.
We all have our favorite smells that bring back those oh so precious memories, but there are also some universal favorites. With the help of a Scentsy Warmer, you are assured to set the mood this Valentine's Day:
First off is the universal fragrance of Cinnamon

I love the smell of cinnamon.  It can envoke strength and boldness while at the same time warming the senses with a sweet and spicy familiarity,  Thankfully this fragrance can be found in many of our Scentsy bars like Apple Butter Frosting– a heartwarming medley of baked cinnamon-spiced apples and decadent vanilla buttercream sure to tantalize your senses. Then there is Welcome Home, (my hubby's favorite scent) which is warm and welcoming to any guests stopping by or for you returning home after a hard day at the office. These are just a few of our many fragrances with that charming, sweet, spicy smell.

Next-up, for those that love florals, we have Jasmine

Now if you remember ( or maybe you didn't read) last weeks blog, I mentioned that I am not a huge floral fragrance fan.  BUT, LUNA is one of my favorite body care line fragrances which boast of Jasmine.  Jasmine will enchant the senses and encourage natural energy that ushers in balance, calm, and optimism to the mind, body, and spirit. It can increase our confidence and motivate and encourage the release of inhibitions. Jasmine can also help spark and fuel the beautiful energy, enthusiasm, and passion that you may need. So add an air of mystery this Valentine's Day with this rich and sultry fragrance.

Then there is Sugar

For those playful times, nothing will solicit fun like the sweet fragrance of lemon drops and cotton candy.  This is a great fragrance to bring about a relaxed atmosphere this Valentine's Day and comes in a variety of Scentsy products from our Bars which made us famous, to our newly launched Scentsy GO! pods.
Or get an instant fragrance moving throughout your house with our Scentsy diffusers and specially formulated essential oils.  
Essential oils have been used since the beginning of time and can set the mood for any occasion.   Our Scentsy Oils are derived from the most intoxicating flowers, luscious fruits, and vibrant botanicals and are sourced only from the finest natural ingredients from around the globe. They are exclusively designed for use with our Scentsy Diffusers.
Grapefruit

Grapefruit oil will invite joy and happiness into your home as it brings a sense of joy wherever it is present.  This is a great fragrance when you need a little to calm your nerves or uplift your mood.   It is found in our Grapefruit and Blood Orange blend of 100% Natural oil.

Patchouli

This is one of my all-time FAVORITE fragrances.  With four kids that I homeschool and running my own business, I am in constant need of balance. So I use  Patchouli Rose 100% Natural Oil. This rich, earthy aroma brings about a calm to my mind, body, and spirit.

Sandalwood

This is a common fragrance in many expensive perfumes around the world.  With it's exotic frangrance you can't go wrong on Valentine's Day with this oil.  Sandalwood Lemon Basil 100% Natural Oil is perfect for those who seek romance without the florals.
Whether you choose to woo your love through spicy, floral or gourmand fragrances, Scentsy can help bring romance to your Valentine's Day.